Name: Andy Mayland
Gender: Male
Desired Job: Erudite Scientist
Current Age: 17
Why do you want this job?: "It calms my emotions and keeps me on track. I have a lot of knowledge I'd like to put use to. Being a scientist has been my biggest dream, since my parents died. I'd love to make more serums and help all discover new things."
Why should we accept you in this job?: "I have a lot of knowledge about being a scientist. I know every serum and what it contains by heart. Being a scientist, like I said earlier, has been my biggest dream since my parents' death. I promised them I'd be successful, and I will. I just need to be accepted."
Comments
You Have Been Accepted
The Faction Leaders have concurred that you would bring excellent service as Erudite Scientist. You can now put this template in your character page as a proof of its achievement. Congratulations.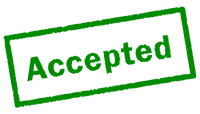 REDIRECT User:JayeTheMofo/sigcoding
Ad blocker interference detected!
Wikia is a free-to-use site that makes money from advertising. We have a modified experience for viewers using ad blockers

Wikia is not accessible if you've made further modifications. Remove the custom ad blocker rule(s) and the page will load as expected.