Name: Zane Cameron.
Gender: Male.
Parents Faction: Erudite.
Desired Faction: Amity.
Least Desired Faction: Candor.
Current Age: 18.
Appearance: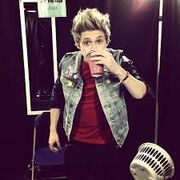 Personality: Zane is a happy-go-lucky type of guy. He has an accent, which is unknown to everyone from where it came from. Especially the Erudite. Zane was treated like a lab rat when he was a child, due to the Erudite being a bunch of inconsiderate scientific morons. Zane is a happy guy and goes against violence. He likes food. A lot. Zane, overall, is a really random teen.
History: Zane was born on June 6th to Erudite Parents, Louis and Eleanor Calder. Zane was always happy. He never cried or fought with anyone during his childhood. He grew up in a loving family, with his parents and sister, Bianca Cameron. It all began going downhill when he turned 7. His accent began thickening. The Erudite Leaders were very curious as to why he had an accent, an began to run many tests, somewhat making him a lab rat. Zane never really liked the Erudite, but sucked it up. He always grew a certain interest to the Amity's way of living, as they were really peaceful and independent. He knew he wanted a change once his time to pick came, as the Erudite were starting to get on his nerves. His sister also wanted a change, unknown to him. Zane was quite sad that he was considering leaving his family, but knew it was for the best, so when the time to take the test came, he knew what he had to do.
Weapons: As he follows Amity ways instead of Erudite, he has no weapons.
Aptitude Test
Game Master
Send Me an Owl! - 00:41, August 26, 2014 (UTC)
The Old-Aged Amity woman smiled back at the boy and handed him a vial of liquid. "Drink this, young one. It will begin the test.
Game Master
Send Me an Owl! - 00:41, August 26, 2014 (UTC)
When he woke up, he was in the same room, except it was empty. There was only him and two objects. A slab of meat and a knife.
Game Master
Send Me an Owl! - 00:41, August 26, 2014 (UTC)
Zane slowly turns and a large husky can be seen, ready to pounce on a young amity boy.
Game Master
Send Me an Owl! - 00:41, August 26, 2014 (UTC)
Zane wakes up in the first room. The Amity Woman smiles proudly at the boy. "Congratulations! You received Amity. You will be a great addition to our faction, young one."
Your Results are Conclusive

The test concluded that you shall be a member of Amity. But that's not the end of it! You now need to make a page for your character. When you finish that, add your Character's name in its faction and then role play with the character that you just made.
REDIRECT User:JayeTheMofo/sigcoding