Name: Marilyn Diana Lloyd
Gender: Female
Parents Faction: Dauntless
Desired Faction: Dauntless
Least Desired Faction: Pristine/Amity
Current Age: 17
Appearance: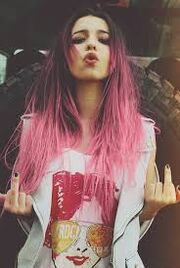 Personality: Marilyn Diana Lloyd is a stubborn teenager. She's very sarcastic and really bitchy. Marilyn is a girl who prefers being free rather than closed up. Mari follows no rules and loves pulling cruel pranks. She can be real choosy of her friends and does many idiotic and dauntless things. Being born into a rich and known family, she might be a little snotty. Of course, she notched it down a bit, but remember... Old habits die hard. Marilyn is rather cold to other faction members who aren't Dauntless.
History: "I was born to Dauntless Leaders, Jack and Kayla Lloyd on a snowy February 1st. My parents taught me to be cold, heartless and cruel, just like they were, but even if I tried denying it, I had a bit of love inside my heart, unfortunate for my parents. I did grow like a true Dauntless Born. I did many stupid and daring things, like jumping off roofs and going zip-lining."
"I used to get on many fights with Erudite Children, as they're just a bunch of smartasses scared enough to take a risk. Overall, I grew up like a Dauntless Child should. By fighting, loving, hating and daring. I also dated many boys, but I simply dumped them for many reasons. Maybe they weren't daring enough, smart enough, hot enough, or simply... not my type."
"Honestly, the story of my life has been a fun one. At least, in Dauntless terms. As I was saying earlier, I was taught to hate and be cold, making me one of the most feared through the young crowd of Erudite, Abnegation, Amity, Candor and Dauntless. I did like the way they feared me, but to be honest, what Dauntless kid doesn't?"
"I want to be a Dauntless, and I will be. I may not like my parents and have been quite a disappointment before, I want to be a Dauntless, as I fit right through them, yet stand out in my own way. Either way, I will pass initiation and who knows? Maybe i'll even get to turn another Dauntless kid into a mini me."
Weapons: She has a bow and quiver of arrows, plus a pistol. Both of which she always has on. Anyone who ouches will get an arrow shoved so far down his/her throat, he/she will feel it coming out of his/her butt hole.
Aptitude Test
Game Master
Send Me an Owl! - 20:48, September 21, 2014 (UTC)
A Dauntless woman looks at Zoe smiling. "Hello there Zoe. Take a seat and drink this." She hands her a vial of liquid. "It's not poison. It'll start the test." She reassures.
Game Master
Send Me an Owl! - 20:48, September 21, 2014 (UTC)
When she wakes up, she sees two objects. There's a slab of meat and a knife the size of her forearm. "Choose." A voice says.
Game Master
Send Me an Owl! - 20:48, September 21, 2014 (UTC)
The slab of meat disappears and a low growl can soon be heard, followed by a desperate cry for help.
Game Master
Send Me an Owl! - 20:48, September 21, 2014 (UTC)
The young girl has disappeared and the image changes. Marilyn is sitting in a chair and a man, holding a newspaper with a woman on the cover, is standing in front of her, looking at her. "Do you know this woman? If you do, you must tell me. This could save my life."
Game Master
Send Me an Owl! - 20:48, September 21, 2014 (UTC)
The simulation soon ends and the woman looks shocked at Marilyn, "You're results were inconclusive. You received Dauntless and Candor. You must not tell anyone of the results. Now leave and tell you're parents you were sick due to the vial. Now go." She orders, pushing her out the room.
Your Results are Conclusive

The test concluded that you shall be a divergent member of Dauntless. But that's not the end of it! You now need to make a page for your character. When you finish that, add your Character's name in its faction and then role play with the character that you just made.
REDIRECT User:JayeTheMofo/sigcoding