Name: Elizabeth Harries.
Gender: Female.
Parents Faction: Candor.
Desired Faction: Candor.
Least Desired Faction: Amity.
Current Age: 15
Appearance: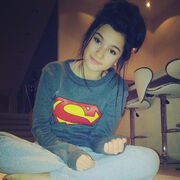 Personality: Elizabeth is a sweet girl. She isn't afraid of speaking her mind and loves eating. She loves playing her guitar, eating and singing, as well as swimming. Elizabeth isn't shy on speaking her mind and is willing to help everyone and anyone that needs it. She hates to be treated like a little girl, and wants to be respected. She has a few standards you must meet to be her friend, otherwise, she could be your worst nightmare.
History: Elizabeth was born to Jerome and Leila Harries on January 1st. She was a miracle, to be honest. Her mother couldn't conceive a child due to health difficulties, but when they found out that they were expecting, they bought many things. When they found out it was a girl, they bought even more stuff. As Elizabeth grew up, she was spoiled rotten by her parents. She was taught to not lie, as it could be their future downfall. Elizabeth was a very loved child. She never really cried and was always happy. On school, she was a real troublemaker. Of course, as she grew older, she matured more. Now at 15, Elizabeth now has a lot of capacity and is thinking of her choices and what the outcome would be, as her test is only a year away.
Weapons: No weapons.
Comments
As she's a child, she doesn't have to undergo the aptitude test. Once the character turns 16, the user must make another claim with the original claim's information, in which will then have the test.
Your Results are Conclusive

The test concluded that you shall be a member of Candor. But that's not the end of it! You now need to make a page for your character. When you finish that, add your Character's name in its faction and then role play with the character that you just made.
REDIRECT User:JayeTheMofo/sigcoding