Basic Info
Full Name: Clarisse Agnes Norwood
Nickname: Agnes
Title: Abnegation Transfer Leader
Age: 17
Faction: Abnegation
Nationality: American
Weapons: Twin Daggers
Other Info
Model: Sophia Abrahão
Owner: AliasKit
Word Bubble: 
Agnes Norwood -Pristine born, Abnegation
-Abnegation Transfer Leader
Age= 17     Height= 5'7"     Weight= 124lbs     
Sexuality= Straight     Status= Single     Nationality= American     
Accent= American     Main Weapon= Twin Daggers
 – "If you gave me a chance, I'll take it." - Clean Bandit (Rather Be)

test
Personality
Despite the fact that she experienced bullying when she was younger, she didn't let her anger overcome her but she instead did her best to improve herself to prove people that she's still got what it takes. She is not easily discouraged and very strong at heart. She is submissive to who is in authority. She prefers to be a follower than being a leader, actually although she has some of the qualities of a leader. She is pretty independent and would take initiative to any task assigned to her. She makes sure she fulfills her duties first before doing things for leisure.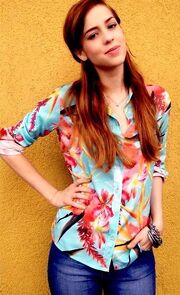 History
Agnes had a pretty simple life having a father who was a salesman and a mother who worked in a hospital. She also had a brother named Gregory or Greg for short, who is two years younger than her.
When she was in her childhood years, she wasn't quite loved by the people around her but rather bullied because of her appearance. You know how people are. Her body type was not considered "normal" but years later when she came to her adolescent years, she finally got to look "normal" and the bullying stopped.
All throughout the years of studying, she was able to make it on top and never got removed from it. She was quite a perfectionist and would always aim to be a part of the top students until one time, she learned her lesson when she was not able to make it. Her pride was hurt but then she learned to accept it eventually.
Reaching the right age, she took the aptitude test when she was seventeen. According to the proctor, she was almost Pristine but the result was actually Abnegation.
Ad blocker interference detected!
Wikia is a free-to-use site that makes money from advertising. We have a modified experience for viewers using ad blockers

Wikia is not accessible if you've made further modifications. Remove the custom ad blocker rule(s) and the page will load as expected.